Visit Havering and Marvel At The Interesting Attractions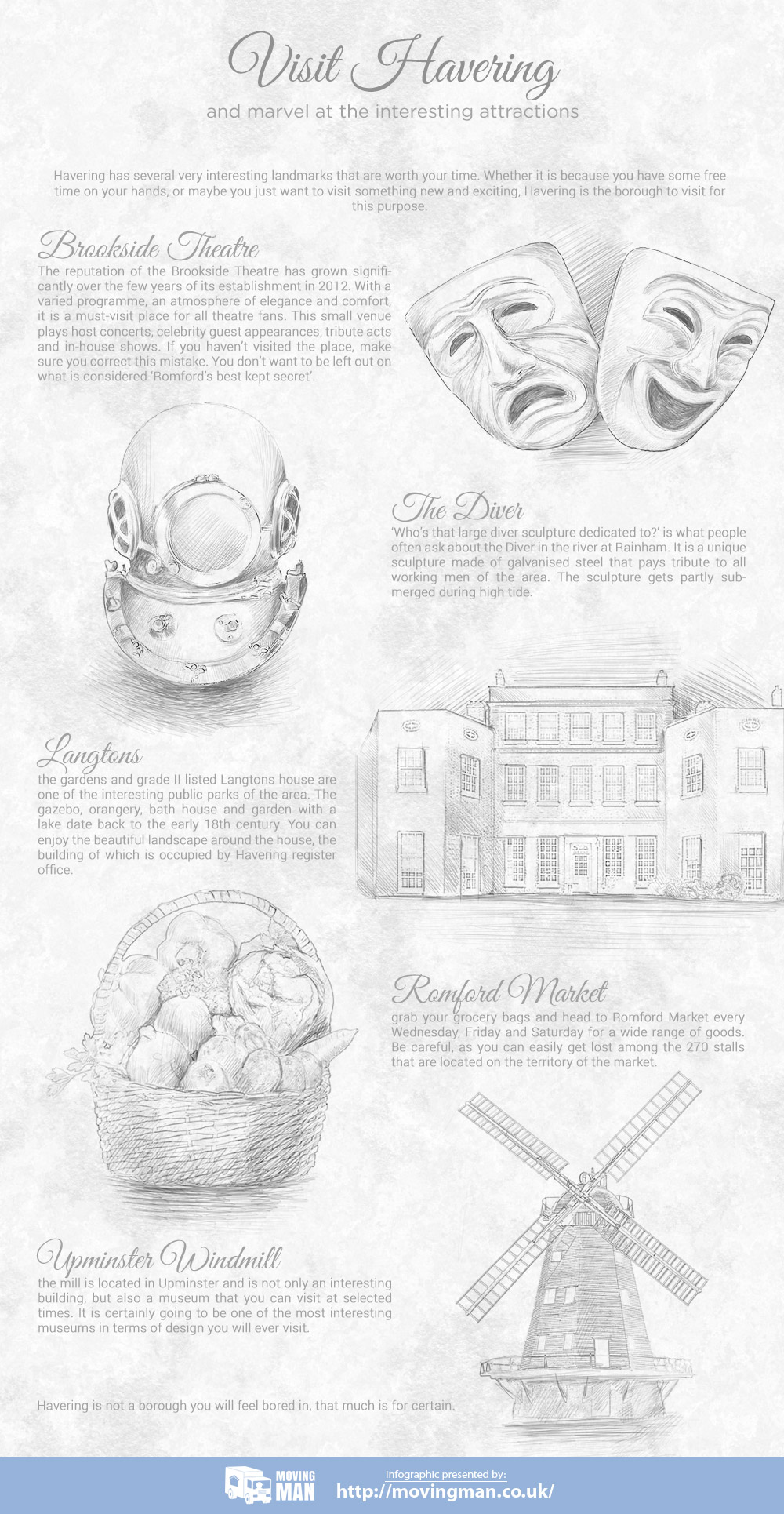 Havering has several very interesting landmarks that are worth your time. Whether it is because you have some free time on your hands, or maybe you just want to visit something new and exciting, Havering is the borough to visit for this purpose.

- Brookside Theatre - the reputation of the Brookside Theatre has grown significantly over the few years of its establishment in 2012. With a varied programme, an atmosphere of elegance and comfort, it is a must-visit place for all theatre fans. This small venue plays host concerts, celebrity guest appearances, tribute acts and in-house shows. If you haven't visited the place, make sure you correct this mistake. You don't want to be left out on what is considered 'Romford's best kept secret'.

- The Diver - 'Who's that large diver sculpture dedicated to?' is what people often ask about the Diver in the river at Rainham. It is a unique sculpture made of galvanised steel that pays tribute to all working men of the area. The sculpture gets partly submerged during high tide.

- Langtons - the gardens and grade II listed Langtons house are one of the interesting public parks of the area. The gazebo, orangery, bath house and garden with a lake date back to the early 18th century. You can enjoy the beautiful landscape around the house, the building of which is occupied by Havering register office.

- Romford Market - grab your grocery bags and head to Romford Market every Wednesday, Friday and Saturday for a wide range of goods. Be careful, as you can easily get lost among the 270 stalls that are located on the territory of the market.

- Upminster Windmill - the mill is located in Upminster and is not only an interesting building, but also a museum that you can visit at selected times. It is certainly going to be one of the most interesting museums in terms of design you will ever visit.

Havering is not a borough you will feel bored in, that much is for certain.