There's Much to Do and See in Southwark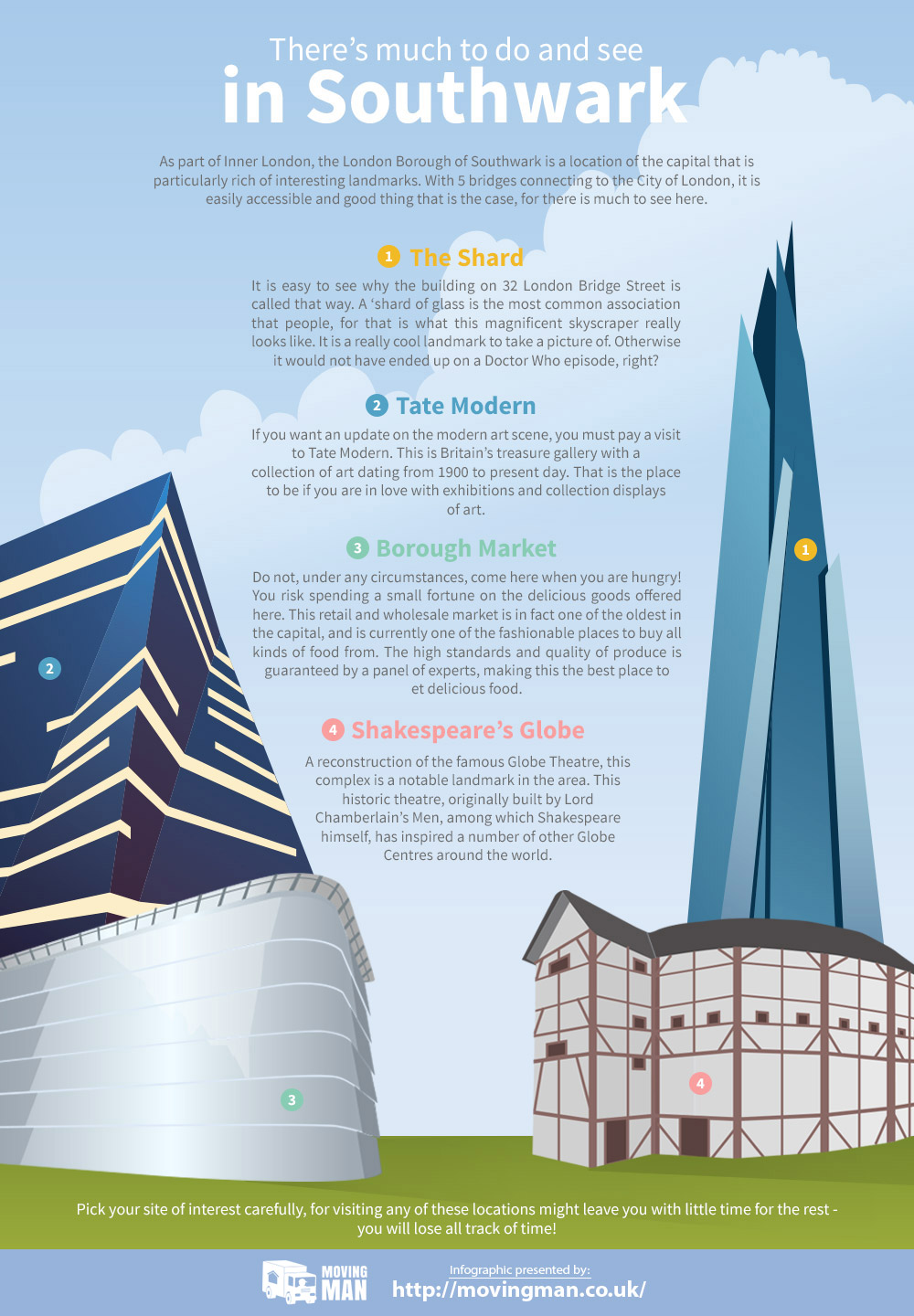 As part of Inner London, the London Borough of Southwark is a location of the capital that is particularly rich of interesting landmarks. With 5 bridges connecting to the City of London, it is easily accessible and good thing that is the case, for there is much to see here.

- The Shard - it is easy to see why the building on 32 London Bridge Street is called that way. A 'shard of glass is the most common association that people, for that is what this magnificent skyscraper really looks like. It is a really cool landmark to take a picture of. Otherwise it would not have ended up on a Doctor Who episode, right?

- Tate Modern - if you want an update on the modern art scene, you must pay a visit to Tate Modern. This is Britain's treasure gallery with a collection of art dating from 1900 to present day. That is the place to be if you are in love with exhibitions and collection displays of art.

- Borough Market - do not, under any circumstances, come here when you are hungry! You risk spending a small fortune on the delicious goods offered here. This retail and wholesale market is in fact one of the oldest in the capital, and is currently one of the fashionable places to buy all kinds of food from. The high standards and quality of produce is guaranteed by a panel of experts, making this the best place to get delicious food.

- Shakespeare's Globe - a reconstruction of the famous Globe Theatre, this complex is a notable landmark in the area. This historic theatre, originally built by Lord Chamberlain's Men, among which Shakespeare himself, has inspired a number of other Globe Centres around the world.

Pick your site of interest carefully, for visiting any of these locations might leave you with little time for the rest - you will lose all track of time!