The Greenery in Merton is the Greenery to See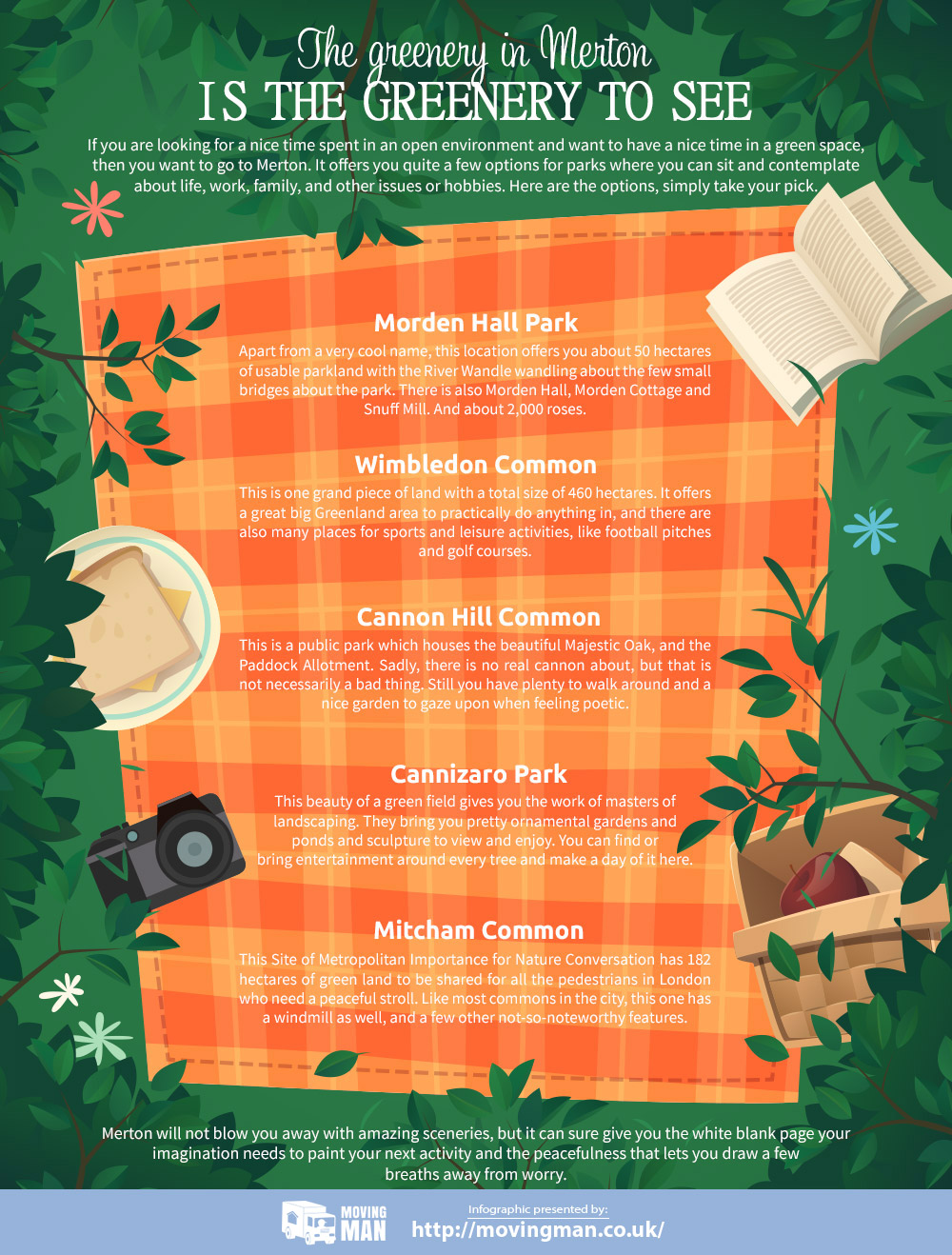 If you are looking for a nice time spent in an open environment and want to have a nice time in a green space, then you want to go to Merton. It offers you quite a few options for parks where you can sit and contemplate about life, work, family, and other issues or hobbies. Here are the options, simply take your pick.

• Morden Hall Park

Apart from a very cool name, this location offers you about 50 hectares of usable parkland with the River Wandle wandling about the few small bridges about the park. There is also Morden Hall, Morden Cottage and Snuff Mill. And about 2,000 roses.

• Wimbledon Common

This is one grand piece of land with a total size of 460 hectares. It offers a great big Greenland area to practically do anything in, and there are also many places for sports and leisure activities, like football pitches and golf courses.

• Cannon Hill Common

This is a public park which houses the beautiful Majestic Oak, and the Paddock Allotment. Sadly, there is no real cannon about, but that is not necessarily a bad thing. Still you have plenty to walk around and a nice garden to gaze upon when feeling poetic.

• Cannizaro Park

This beauty of a green field gives you the work of masters of landscaping. They bring you pretty ornamental gardens and ponds and sculpture to view and enjoy. You can find or bring entertainment around every tree and make a day of it here.

• Mitcham Common

This Site of Metropolitan Importance for Nature Conversation has 182 hectares of green land to be shared for all the pedestrians in London who need a peaceful stroll. Like most commons in the city, this one has a windmill as well, and a few other not-so-noteworthy features.

Merton will not blow you away with amazing sceneries, but it can sure give you the white blank page your imagination needs to paint your next activity and the peacefulness that lets you draw a few breaths away from worry.