Places to Go, Things to See: Mission Barking and Dagenham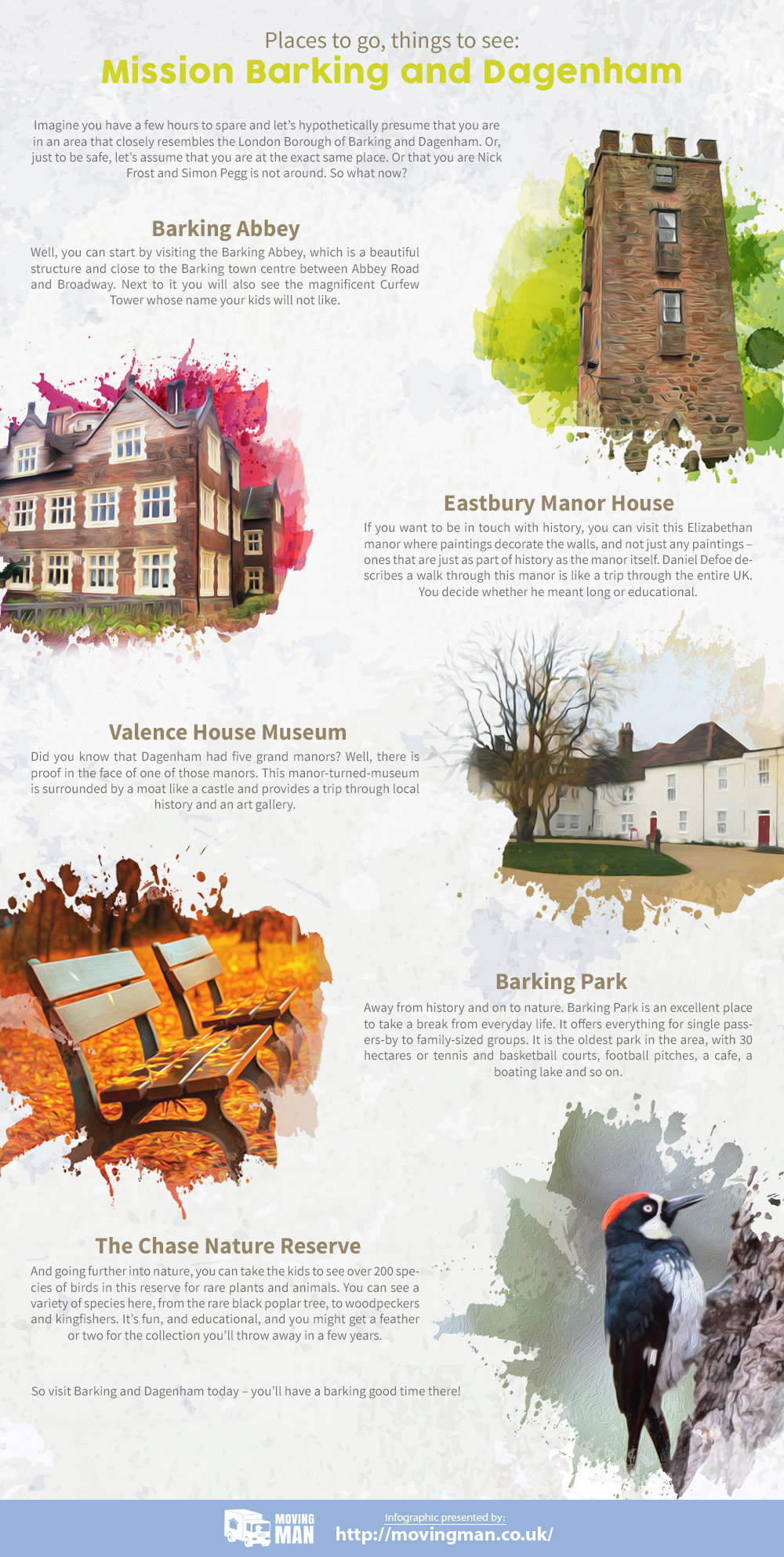 Imagine you have a few hours to spare and let's hypothetically presume that you are in an area that closely resembles the London Borough of Barking and Dagenham. Or, just to be safe, let's assume that you are at the exact same place. Or that you are Nick Frost and Simon Pegg is not around. So what now?

• Barking Abbey

Well, you can start by visiting the Barking Abbey, which is a beautiful structure and close to the Barking town centre between Abbey Road and Broadway. Next to it you will also see the magnificent Curfew Tower whose name your kids will not like.

• Eastbury Manor House

If you want to be in touch with history, you can visit this Elizabethan manor where paintings decorate the walls, and not just any paintings – ones that are just as part of history as the manor itself. Daniel Defoe describes a walk through this manor is like a trip through the entire UK. You decide whether he meant long or educational.

• Valence House Museum

Did you know that Dagenham had five grand manors? Well, there is proof in the face of one of those manors. This manor-turned-museum is surrounded by a moat like a castle and provides a trip through local history and an art gallery.

• Barking Park

Away from history and on to nature. Barking Park is an excellent place to take a break from everyday life. It offers everything for single passers-by to family-sized groups. It is the oldest park in the area, with 30 hectares or tennis and basketball courts, football pitches, a cafe, a boating lake and so on.

• The Chase Nature Reserve

And going further into nature, you can take the kids to see over 200 species of birds in this reserve for rare plants and animals. You can see a variety of species here, from the rare black poplar tree, to woodpeckers and kingfishers. It's fun, and educational, and you might get a feather or two for the collection you'll throw away in a few years.

So visit Barking and Dagenham today – you'll have a barking good time there!