Calling All Theatre Fans On Stage In Hammersmith And Fulham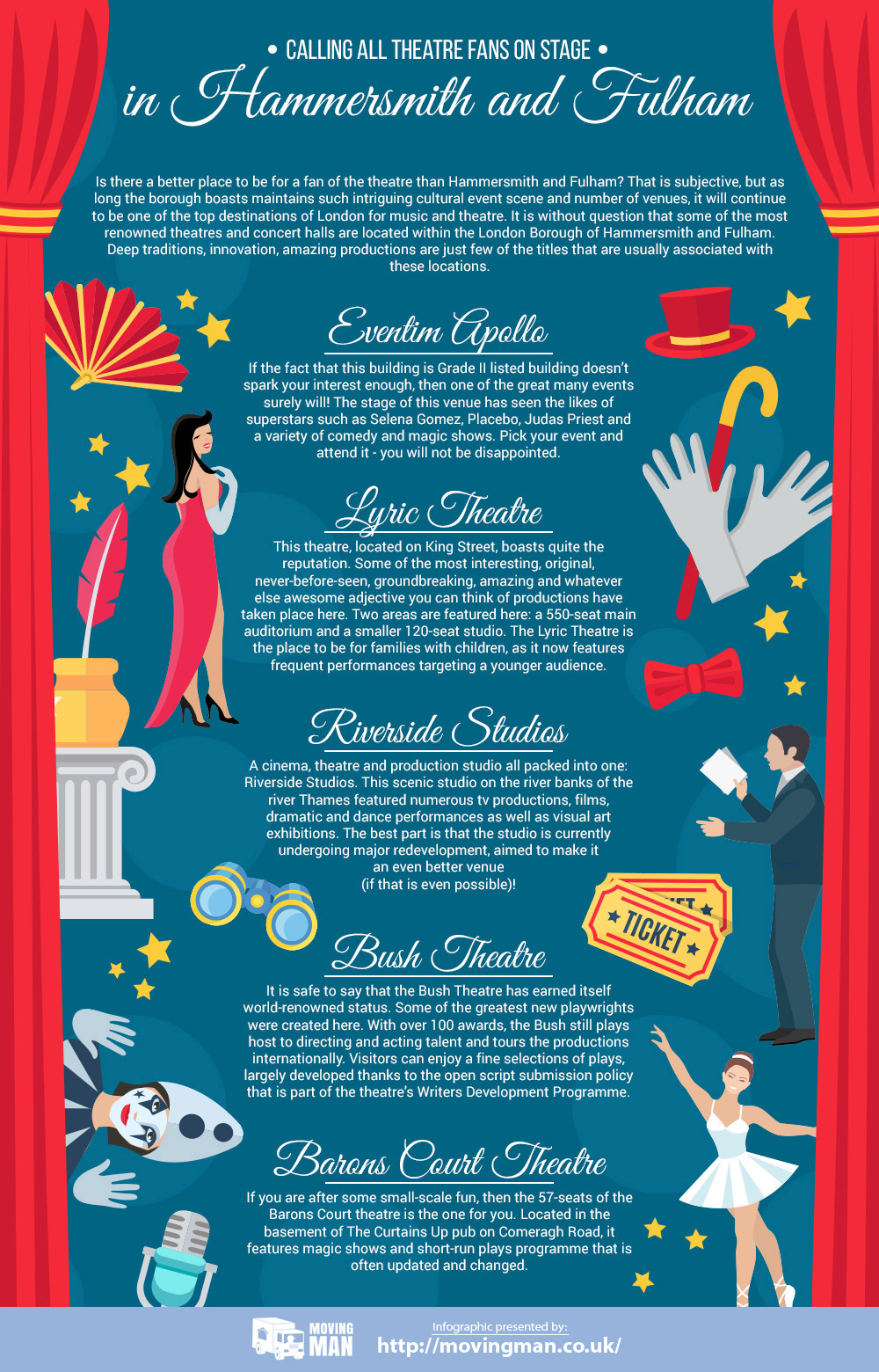 Is there a better place to be for a fan of the theatre than Hammersmith and Fulham? That is subjective, but as long the borough boasts maintains such intriguing cultural event scene and number of venues, it will continue to be one of the top destinations of London for music and theatre. It is without question that some of the most renowned theatres and concert halls are located within the London Borough of Hammersmith and Fulham. Deep traditions, innovation, amazing productions are just few of the titles that are usually associated with these locations.

- Eventim Apollo - if the fact that this building is Grade II listed building doesn't spark your interest enough, then one of the great many events surely will! The stage of this venue has seen the likes of superstars such as Selena Gomez, Placebo, Judas Priest and a variety of comedy and magic shows. Pick your event and attend it - you will not be disappointed.

- Lyric Theatre - this theatre, located on King Street, boasts quite the reputation. Some of the most interesting, original, never-before-seen, groundbreaking, amazing and whatever else awesome adjective you can think of productions have taken place here. Two areas are featured here: a 550-seat main auditorium and a smaller 120-seat studio. The Lyric Theatre is the place to be for families with children, as it now features frequent performances targeting a younger audience.

- Riverside Studios - a cinema, theatre and production studio all packed into one: Riverside Studios. This scenic studio on the river banks of the river Thames featured numerous tv productions, films, dramatic and dance performances as well as visual art exhibitions. The best part is that the studio is currently undergoing major redevelopment, aimed to make it an even better venue (if that is even possible)!

- Bush Theatre - it is safe to say that the Bush Theatre has earned itself world-renowned status. Some of the greatest new playwrights were created here. With over 100 awards, the Bush still plays host to directing and acting talent and tours the productions internationally. Visitors can enjoy a fine selections of plays, largely developed thanks to the open script submission policy that is part of the theatre's Writers Development Programme.

- Barons Court Theatre - if you are after some small-scale fun, then the 57-seats of the Barons Court theatre is the one for you. Located in the basement of The Curtains Up pub on Comeragh Road, it features magic shows and short-run plays programme that is often updated and changed.