Back to Nature in Harrow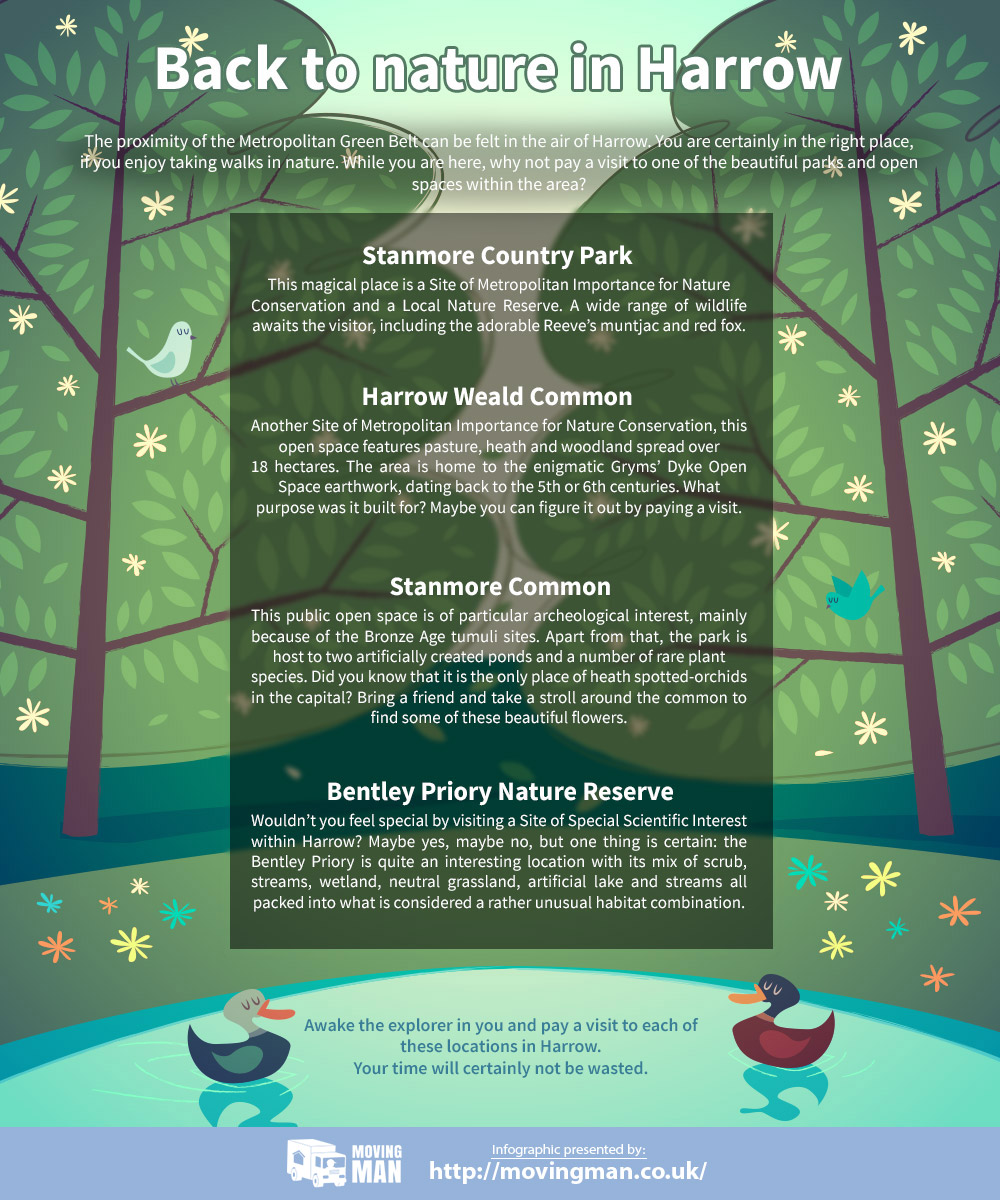 The proximity of the Metropolitan Green Belt can be felt in the air of Harrow. You are certainly in the right place, if you enjoy taking walks in nature. While you are here, why not pay a visit to one of the beautiful parks and open spaces within the area?

- Stanmore Country Park - this magical place is a Site of Metropolitan Importance for Nature Conservation and a Local Nature Reserve. A wide range of wildlife awaits the visitor, including the adorable Reeve's muntjac and red fox.

- Harrow Weald Common - another Site of Metropolitan Importance for Nature Conservation, this open space features pasture, heath and woodland spread over 18 hectares. The area is home to the enigmatic Gryms' Dyke Open Space earthwork, dating back to the 5th or 6th centuries. What purpose was it built for? Maybe you can figure it out by paying a visit.

- Stanmore Common - this public open space is of particular archeological interest, mainly because of the Bronze Age tumuli sites. Apart from that, the park is host to two artificially created ponds and a number of rare plant species. Did you know that it is the only place of heath spotted-orchids in the capital? Bring a friend and take a stroll around the common to find some of these beautiful flowers.

- Bentley Priory Nature Reserve - wouldn't you feel special by visiting a Site of Special Scientific Interest within Harrow? Maybe yes, maybe no, but one thing is certain: the Bentley Priory is quite an interesting location with its mix of scrub, streams, wetland, neutral grassland, artificial lake and streams all packed into what is considered a rather unusual habitat combination.

Awake the explorer in you and pay a visit to each of these locations in Harrow. Your time will certainly not be wasted.